Why You Need A Website
A website is vital for a business of any size. Nearly 85% of consumers look to the web to find where to go, what to buy, and who to use for services. If your business or organization isn't online (and a staggering 63% of businesses aren't) then you are not reaching potential consumers.
Our job at White Wonder Studios is to connect you with consumers with our web design services and internet marketing solutions and generate leads for your business.
Don't  let your business be just another statistic – get on top of the internet marketing game today by having our expert web design team craft you a beautiful website that drives consumers to your business.
Did You Know?
85% of consumers search for businesses or products online.
63% of businesses don't have a website.
25% of businesses don't show up in local search results.
Why You Should Hire White Wonder Studios
We take your success seriously – because your success is ours. We strive to generate a positive return-on-investment for every project we work on, regardless of size or budget.
We've been in the web design industry since 1998 – we've watched the dot-com bust, technologies come and go, and the internet become a staple of everyday life. Our team members are experts in current standards for internet technology and beautiful web design, and we bring our very best to every project.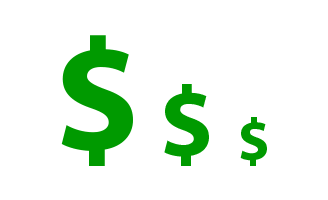 Solutions For Every Budget
We don't believe you should be limited by the amount of money you can spend on a website. Some businesses have budgets from $5,000-$15,000. Other business, especially new or small businesses, don't have the luxury of a budget that large.
Starting in 2014, we are proud to offer two web design solutions for payment designed to fit both large and small budgets alike.
Standard Web Design
Our standard web design pricing option is the what the web design industry has utilized for years: we provide a detailed estimate based on the scope of the project, design a custom website, and you are invoiced upon completion of our services with no on-going fees from us.
One time design fee.

Detailed estimate provided based on work to be completed.
Billed at our standard hourly rate.

Web hosting & domain name fees are not included.
Ongoing updates/website maintenance is billed at our standard hourly rate, as-needed.
Ideal for businesses needing web design and have a fixed, one-time budget.
Our monthly website design payment plan is a complete web design package billed on a monthly basis. Our web design process is the same as always with the same end result – a professional, custom website for your business. What's the catch? None. You aren't bound to a contract and can cancel anytime.
On-going, low monthly fee.

No initial setup fees & no hidden costs.
No contracts – you can cancel anytime.

Web hosting INCLUDED.
On-going maintenance and security monitoring
Free content updates.
Ideal for businesses needing a professional, custom website but don't have a large budget to work with – incorporate your website into your monthly marketing budget!