A unique name that elicits a variety of theories…
We get asked this all the time by those trying to figure out the origins and meaning of "White Wonder."
Initially "white wonder" was intended as an synonym for snow. Isaiah (our owner) grew up playing in snowdrifts and weathering blizzards, so the name seemed fitting. Then something crazy happened: Isaiah found himself on bottom of the world living and working in Antarctica as a firefighter for the Antarctic Fire Department protecting McMurdo Station and the military airfields from the threat of fire. To experience Antarctica is to experience a land full of wonder, beauty, excitement, purity, and adventure. The pristine, unadulterated environment sets it apart as one of the few world wonders unscathed by man. The select, chosen few who dare to brave Antarctica refer to it as "the ice" – because that's literally what it's covered in and white snow/ice is what you see from horizon to horizon. Antarctica is the epitome of "white wonder." -Isaiah S. Walter
A World Away, Close To Home
Even though it's more than 8,223 miles away, Antarctica is very close to us at White Wonder Studios, as we've all heard stories from Isaiah's adventures. The experiences he had on "the ice" really resonated with him and he brings those experiences, lessons, and values to our team's core.

There is a saying amongst those who have survived life in Antarctica: 'The Ice gets in your blood.' According to the lore, once you have stepped foot on the ice, you will never forget it for the rest of your life, and will always want to return. –Unknown
About The Photos
You may have noticed that all of the photos on this website are from Antarctica. If you didn't notice – well – now you know. All of them were taken by Isaiah while he was deployed to "the ice." Here are some tidbits about each of the photos: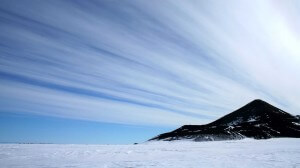 Observation Hill (Ob Hill) on Ross Island, Antarctica
Observation Hill is the large hill (small mountain is more like it) immediately adjacent to McMurdo Station on Ross Island. From the viewpoint of this photo, McMurdo Station is just on the other side of Ob Hill.
Isaiah took this photo while out on Antarctica Survival & Safety Training lovingly known as "Happy Camper" training.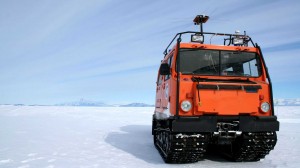 Hägglund on Ross Ice Shelf, Antarctica
This photo is of a Hagglund – a tracked vehicle that is a staple of the USAP vehicle fleet for expeditions out onto the sea ice and camps. In the background is Mount Discovery.
Isaiah took this photo while out on an training expedition to learn how to assess and measure the seasonal sea ice.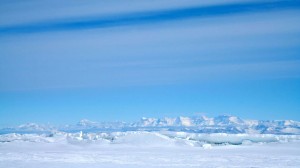 Royal Society Mountain Range, Antarctica
The Royal Society Mountain range lies just across the McMurdo Sound from Ross Island, Antarctica and the USAP McMurdo Station.
Isaiah took this picture from the seasonal ice runway while working at Antarctic Fire Department Station 2 – the station protecting McMurdo Station's airfields.

Boeing C-17 Globemaster III on Ross Ice Shelf
The United States Air Force 62nd Airlift Wing & 446th Airlift Wing operate the C-17 Missions as a part of "Operation Deep Freeze"- a part of the Joint Task Force – Support Forces Antarctica. The missions carry personnel and supply equipment, and land on the seasonal ice runway or Williams Field packed ice runway.
Isaiah took this picture from the seasonal ice runway while performing a "hard stand" operation with the Antarctic Fire Department, standing by while the C-17 was landing, unloading, and departing.

Mount Discovery – Seen From Across McMurdo Sound
Mount Discovery is directly across McMurdo Sound from McMurdo Station, and one of the most prominent mountains in the immediate vicinity.
This picture was taken at 02:29 AM from Isaiah's barracks/dorm room window. During the summer the sun never fully sets in Antarctica, but rather makes an elliptical circle around the sky, dipping slightly behind the mountain ranges during the early and late parts of summer.