Web Design Portfolio & Case Studies
Award-winning web design that speaks for itself.
You want the very best for your business – a web design and digital marketing partner that you know will get the job done right the first time.
We're a little bit different than most web design agencies. Your needs, challenges, and goals aren't always the best fit for working with us – and we will tell you if that's the case.
First, we'd like to show you how we helped our clients achieve success, and see how our work helped them increase efficiency, lead generation, brand awareness, and sales. It's very likely you may see similarities in the current challenges your business is facing. 
If you like what you see, let's sit down and chat to see if we are the right fit to help.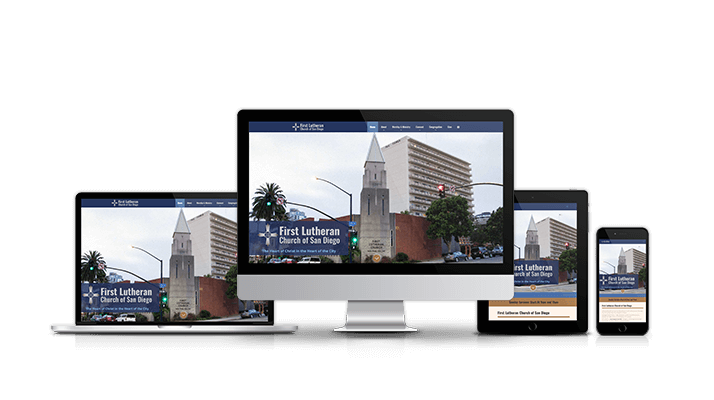 Case Studies
Click on the buttons below to jump down to a case study for one of our clients.
More Work
See more examples of work we have completed for clients.
Mission Hills Town Council
Mission Hills Town Council has had several challenges for us to address over the years. Initially, they wanted to migrate their membership system from a third-party software that was separate from their website and not user-intuitive. We implemented a new membership system directly on their WordPress website, and migrated their membership over to the new system. The new membership system:
allows members to sign up and manage their membership directly on the MHTC website;
has a control panel for MHTC leadership to manage memberships and track progress;
increases membership retention via membership auto-renewals and automatic renewal reminder emails (for members without a payment method on file).
To increase outreach, we helped the MHTC establish and grow a Mailchimp email list which is integrated into the website with subscription forms and calls-to-action.
Later in our working relationship, we helped the MHTC implement a new website design, starting with a clean WordPress install, merging the new membership system with the new design for optimal efficiency.
We continue to manage the MHTC website, developing additional features to increase the organization's efficiency and reduce staff workload.
Created Membership System Directly on the MHTC Website
Increased Annual Membership Retention
Increased Community Engagement Through Newsletter Sign-Ups Online
Boulevard Fitness
Boulevard Fitness is an established fitness gym in the heart of San Diego that lost control of their domain name and website when ownership changed. The new owners reached out to us to help establish a new website while focusing on increasing lead generation and building out an email marketing system for the gym.
Our team developed a fresh, bright website, utilizing the colors found inside the gym, complete with a brand new set of professional photographs to provide a virtual tour. 
The website drives leads through calls-to-action for 3-day passes, newsletter sign-ups, and fitness inquiries. 
Increased Online Membership Leads
Developed Email Marketing List & Strategy
Custom WordPress Website Design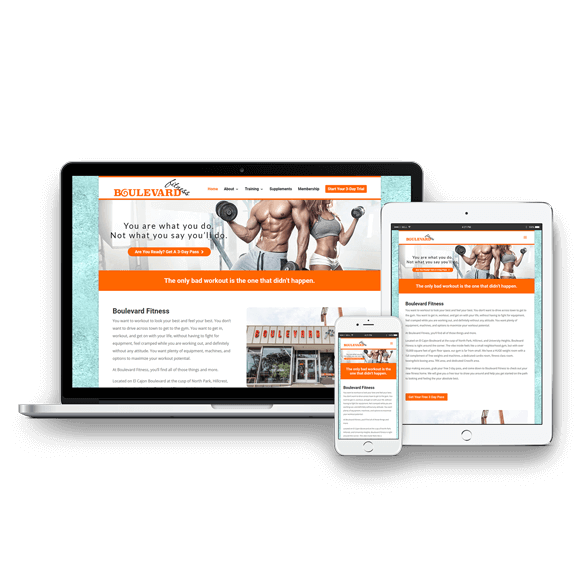 San Diego Roofing
San Diego Roofing first came to White Wonder Studios with two very large problems. First, a former owner was squatting on the company's domain name. Through creative problem-solving, we were able to follow legal channels to regain control of their domain name.
We then turned our focus to redesigning their website. Implementing strong calls-to-action on the new site was a key objective, and we specifically focused on getting visitors to either call San Diego Roofing or fill out a form on the website to request a roofing estimate.
We also wrote copy for the site that was designed to garner strong, organic search engine placement though intuitive SEO practices. This resulted in San Diego Roofing ranking on the first page of all major search engines when searching for roofing contractors in San Diego.
Though our work, we were able to directly increase the number of phone and online leads San Diego Roofing receives each day.
Needing a better way to track their new influx of leads, San Diego Roofing chose to utilize HubSpot as their CRM software. In an effort to streamline the process of entering leads into Hubspot, we developed a solution that pushes those leads directly into Hubspot from the website forms, and automatically assigns those leads to the sales team. 
Increased Lead Generation by 2000%
First-page Organic SEO Ranking for Multiple Keywords/Phrases
Custom WordPress Website Design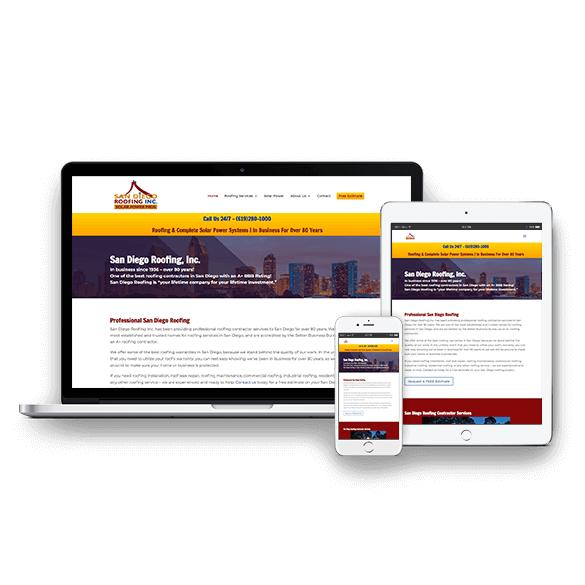 Acadia Dermatology
Acadia Dermatology came to us with a problem that we see all too often – their web designer had disappeared, with no way to be contacted. Their website was running an outdated version of WordPress, on an outdated server, and using an non-responsive theme with WordPress plugins that were no longer supported by the software developer. All of these issues posed issues for website performance and security risks.
After a discovery session with Acadia, we developed a digital strategy with clear goals. The outcome of our work resulted in:
Custom, Responsive WordPress Website Redesign
Increased Lead Generation by 3000%
Newsletter sign-ups increased by 250%
First Page Organic SEO Rankings